Insulated Shades Keep Your Home Warmer in Winter and Cooler in Summer
Typical windows can account for up to 25% of your home's heat loss. Innovative Openings has specialized in insulated shutters and shades since 1980, and has multiple solutions.
How do shades insulate your windows in cold weather?
Heat escapes through windows in 3 different ways:
Conductive heat loss at window openings

Some heat is transferred through the window frame and the spacer bars between the glass via conduction. R-value becomes the most important measure of heat loss through these windows. An insulated window shade that adds an R-value of 2 will cut the heat-loss through a double glazed window (approximately R-value = 2) by 50%.  An R-6 shade would reduce heat loss through the same window by 75%.
Recommended Solutions
Air infiltration at window openings (Convection)
In the case of windows that have a loose-fitting window sash, or other tiny openings around the window, air infiltration can be a larger source of heat loss than conductive heat loss. The first step is to address the window seal with caulk, weatherstripping, storm windows, or replacement windows. Window shades with tight sealing track systems will further reduce any air infiltration. This is often a good solution for aluminum sliding windows.
Recommended Solutions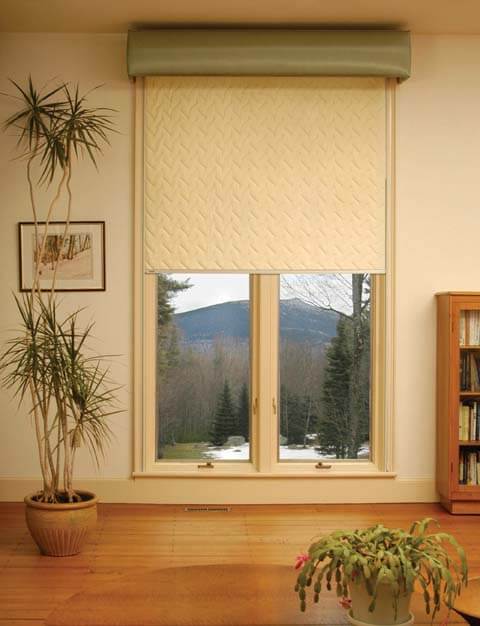 Radiant heat loss at window openings
Radiant heat loss causes the inhabitant of a room to feel colder when near a large uncovered window. Closing any type of window covering over this window will make the room feel warmer, but certain window treatment choices will provide greater comfort and efficiency. A shade with reflective properties will reflect the heat back into the room, providing a radiant heat barrier.
Recommended Solutions
SilverScreen High Performance Solar Shades
Summertime Heat Reduction
Window treatments that keep cold out in the winter also keep heat out in the summer.
Insolroll Solar shades can block heat in the summer in a different way, without blocking the view, thanks to solar screen fabrics. Also known as "technical" fabrics, solar screens are woven with precise characteristics to reflect, absorb, and transmit both visible and infrared radiation felt as heat. All solar fabrics block some heat, but light colors are more effective at reducing heat gain on the interior. High performance solar fabrics with reflective backing provide the highest level of heat reduction in both light and dark colors.