Drapery Alternatives & Vertical Treatments for Sliding Glass Doors & Windows
Drapery alternatives and verticals provide effective, practical solutions to large, wide windows and sliding doors that are beautiful, stylish, and trouble-free. Get all of the softness and elegance of drapes without the long lead-times and significant investment at Innovative Openings!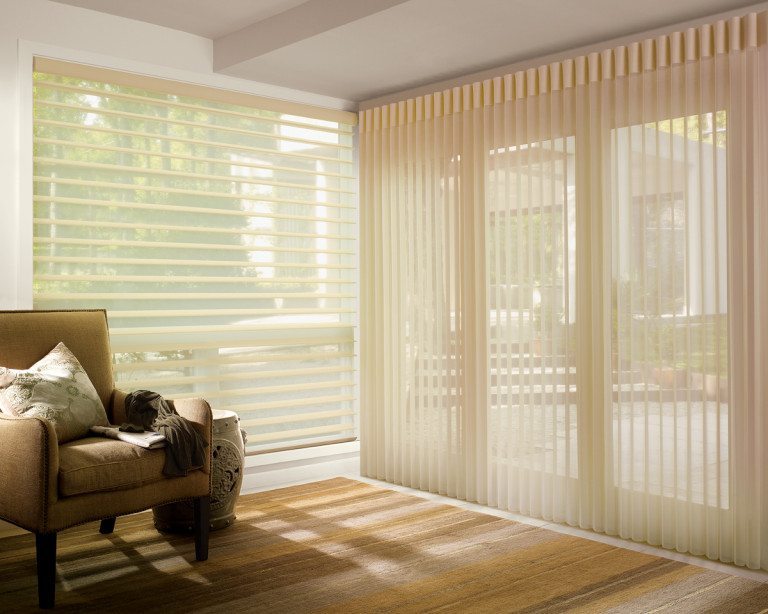 Luminette: Modern Drapery Alternative
Hunter Douglas' innovative drapery alternative, Luminette Privacy Sheers, is a smart choice for wide openings and sliding glass doors. Light and airy, from gauze styles to new metallic sheers that shimmer in the light, Luminette offers function no ordinary drapery can: internal soft, rotating vanes affixed to the back of the sheer. Up to 192″ wide, Luminette provides the ethereal beauty of sheer drapery panels along with variable light and privacy control.
The New Vertical Treatments
Hunter Douglas offers much more than standard vertical blinds today for large openings and sliding doors, in the luxurious fabrics you've come to expect from this well-loved manufacturer.
Vertiglide Operating System for Slider Shades
The Vertiglide™ operating system by Hunter Douglas provides cordless side-to-side operation for 3 of their most popular products:
Skyline Gliding Window Panels
Panels of beautiful, soft fabric in either light filtering, room-darkening, or solar screen opacities, Skyline Gliding Window Panels elevate sliding glass doors and large window openings to a new level of style. Fabric choices that fully coordinate with Hunter Douglas Designer Roller Shades, including Alustra® Woven Textures®.
Provenance® Woven Wood Shades in Vertical-style Option
Natural textures from Hunter Douglas for a contemporary, casual look, made with a combination of natural materials such as bamboo, woods, reeds, and grasses. Coordinate with Provenance Roman shades in 3 distinct styles:
Standard Roman
Classic Roman
Hobbled Roman
Shutters
Innovative Openings offers 3 plantation-style shutter collections that can be made for both bi-fold and bypass track systems, for a uniquely beautiful solution for sliding glass doors.
Vertical Blinds
Vertical blinds are a stylish, functional, cost-effective solution for patio and sliding glass doors. Our large selection includes fabric, vinyl, genuine wood and aluminum finishes with a variety of styles, colors, textures and patterns to enhance any décor.