Hunter Douglas Silhouette® Window Shades

Create beautiful ambient light with Silhouette Window Shades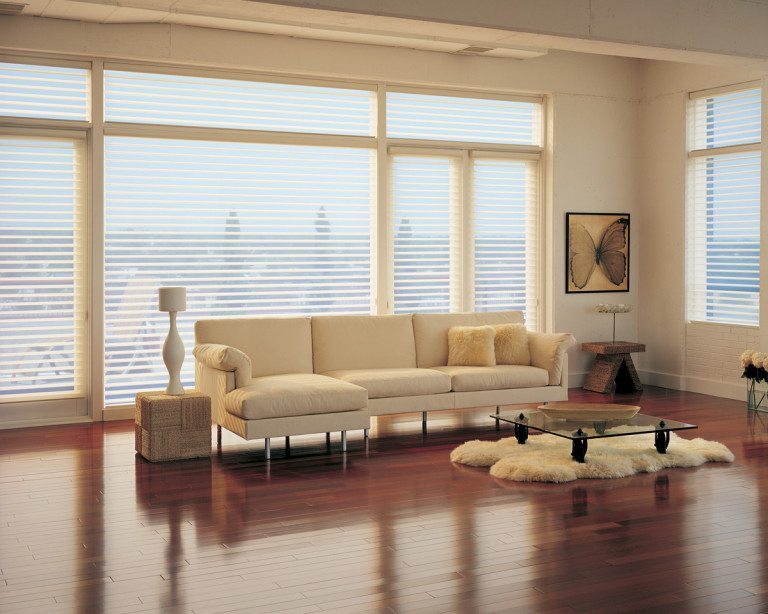 Silhouette Window Shades Provide Total Light Control
Hunter Douglas Silhouette Window Shadings are designed to soften and control natural sunlight. Hunter Douglas' elegant Silhouette® window shadings combine the softness, beauty and light diffusion of sheers with the function of fabric vanes for total light control and privacy.
Silhouette features and choices let you create the perfect shade for you
Available with 2", 3" or 4" vanes
Wide variety of color choices in varying opacity levels
Multiple operator choices

PowerView™ Motorized System
LiteRise® Cordless System
UltraGlide® Click and Walk Away™ Retractable Wand System
EasyRise™ Continuous Loop Operation

GreenGuard Certified
Excellent Ultraviolet protection
Reduce your need for artificial lighting
Silhouette Duolite Shades
Light diffusion and room darkening together in one extraordinary product.
Window Coverings Manufacturer's Association 2015 Product of the Year award winner: Silhouette® Duolite™ shadings offer the best of both worlds!
Combination of the light diffusing Silhouette and a room darkening roller shade.
The roller shade fits snugly behind the Silhouette in the same headrail.
Both shades operate independently from each other.
The individual operation of each shade give you more versatility in light control.
When both shades are lowered completely, the amount of light entering the room is greatly reduced.
Operating System Options:

PowerView™ Motorized System
UltraGlide® Click and Walk Away™ Retractable Cord System
Silhouette® Fabric Choices
---
Silhouette Shade Operator Options
The operator your choose for your Silhouette Shades can have a significant effect on your lifestyle! For homes with small children or pets, cordless LiteRise may be the best choice. The convenience of UltraGlide 2 or motorized PowerView could be the small luxury that makes your day every time you use them.
EasyRise™ continuous cord loop you can raise, adjust and lower your shades by simply pulling on the cord. Its continuous loop makes it easy to lift large shades
UltraGlide® 2 Click and Walk Away: This revolutionary Hunter Douglas operating system uses a retractable cord mechanism to raise and lower the window shade or shading. A constant cord length means there are never any long, dangling cords to detract from the appearance of the shade. Ideal for child and pet safety. Automatically opens the vanes when completely lowered.
LiteRise® operating system makes raising and lowering blinds and shades easier than ever. Simply push up to raise and pull down to lower. Your blinds and shades stay right where you put them

No lift cords for a clean, uncluttered look
Proprietary design holds blinds and shades securely in any position—no constant adjusting
Elimination of lift cords means increased safety for children and pets

PowerView™ Motorized with hard-wired or battery systems. Learn how easy it is to set up, program and operate your Hunter Douglas window coverings to automatically open and close, whenever you want, from wherever you are.
Certified Hunter Douglas Motorization Specialist for all your motorized shade needs in Denver, Boulder, Fort Collins, Breckenridge and Vail Colorado locations.
Simple wall switch or remote control operation
Control with tablet or smartphone- iOS or Android
Battery operated or hardwired shades
3rd party home automation system control- we supply an interface package that allows seamless switching of all shades in the home.
NEW PowerView™ Motorized System for Hunter Douglas Silhouette Shades
PowerView Motorized Shades can be operated using:

PowerView App
Pebble™ Remote Control
Pebble™ Scene Controller with advanced display screen.

Easily create Scenes based on how you want the light, privacy and overall room ambiance to be at different times of day or for different activities
Schedule scenes to operate automatically
Coordinate automatically with sunrise and sunset timing for where you live
Operate your shades from anywhere in the world with your smartphone or tablet
Most PowerView motorized window treatments are battery-powered, so they're incredibly easy to install, operate and maintain. Battery pack is hidden behind headrail so there is nothing to mar the beauty of your window treatments.
Silhouette Detailing Options
Silhouette ClearView

ClearView sheer option is a dark sheer that is more open and allows better view through when the shade is tilted open. The vanes are suspended between two sheer fabric facings and offer a wide selection of beautiful fabrics and optional features that completely disappear into the head rail when fully raised.

Silhouette Halo

• Full-range vane rotation provides maximum flexibility in redirecting sunlight throughout the day and protecting furniture, flooring and decor from harmful UV rays.
• Dual-layer vanes paired with ClearView sheers provide superior light diffusion and view-through.
• Designed to create a soft glow and eliminate harsh shadowing, dual-layer dimensional vanes enhance the color and texture for a distinctly beautiful appearance.
• Silhouette Halo shadings have a sleek bottom rail designed to rock on the window sill as the shading over-rotates. The bottom panel remains a consistent size and provides a clean, uniform look from top to bottom.
Product Information
Downloadable Installation, Operation, & Care documents from Hunter Douglas here.